"It takes a village!" Youth suicide prevention depends on collaboration. It doesn't make sense to try to do it alone. Schools are not islands in a community; they are an integral part.
If your school does not have a suicide prevention plan, or it isn't current, there is no need to start from scratch. Gather a few people together to review resources and create a plan.
The American Academy of Pediatrics recently published a blueprint for youth suicide prevention. Within that blueprint is a comprehensive list of strategies designed to help schools and their communities work together to prevent youth suicide.
You've heard the expression "more heads are better than one." Who should be included on your suicide prevention planning committee? District leaders, counselors, and teachers are natural choices, but don't overlook potential valuable partners in the community. For example, do you have a pediatrician on your team?
Take a look at the examples of groups and organizations on the list below. Collaboration with these groups might expand your thinking beyond a typical list of community partners.
_______________________________________________________________________
The American Academy of Pediatrics offers these recommendations:
The first step in this work is to check in with partners in your community to find out what suicide prevention initiatives already exist in your area.
Consider checking in with potential partners, including:
Schools or School Districts

Colleges and Universities

Parent groups such as your local Parent Teacher Associations/Organizations

Faith-based/Religious organizations

Community leaders or tribal elders

Youth (consider peer-education groups or school clubs)

Community groups such as a Youth Club, 4H club, or

Boys and Girls Club

Scouting or sports organizations

Group and residential care organizations

Mental health organizations

LGBTQ2S+ organizations

County mental health clinics or crisis centers

Organizations involved with the juvenile justice system

Academic enrichment/Tutoring organizations

College advising or student-life organizations

Elected officials

Youth suicide or bereavement

support groups

Your

local chapter

of the American Foundation for Suicide Prevention (AFSP)

Your

local chapter

of the American Academy of Pediatrics (AAP)

Your

local chapter

of the National Alliance for Mental Illness (NAMI)
Community engagement is a key strategy for advancing suicide prevention within diverse communities.
Sustained community engagement can help reduce barriers to care and service use and increase engagement among under-resourced populations.
_______________________________________________________________________
Suicide prevention requires focus and effort. Today is a good day for your school to get started on your best prevention plan. You know that change takes time and requires active participation, and it won't be easy. You will never know how many lives you save, but you can be certain that your efforts will increase awareness and bring the community together for a common goal.
---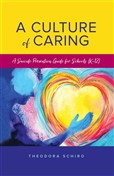 A Culture of Caring: A Suicide Prevention Guide for Schools (K-12) was created as a resource for educators who want to know how to get started and what steps to take to create a suicide prevention plan that will work for their schools and districts. It is written from my perspective as a school principal and survivor of suicide loss, not an expert in psychology or counseling. I hope that any teacher, school counselor, psychologist, principal, or district administrator can pick up this book, flip to a chapter, and easily find helpful answers to the questions they are likely to have about what schools can do to prevent suicide.