A Culture of Caring: A Suicide Prevention Guide for Schools (K-12)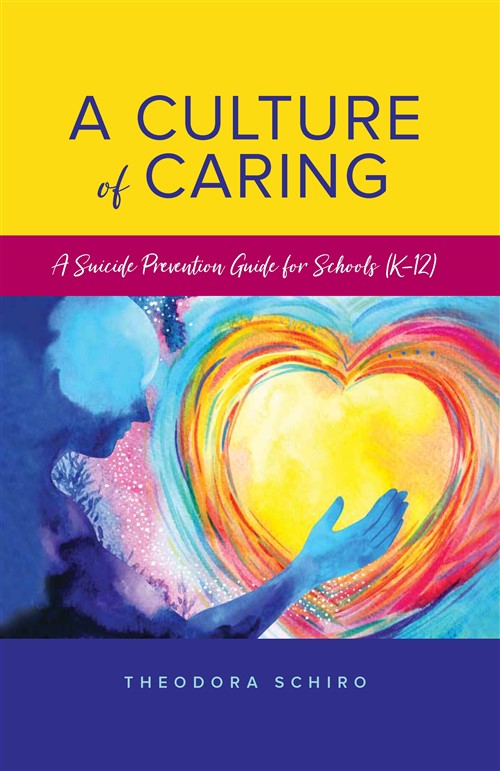 Suicide is the 2nd leading cause of death for people ages 10-24. And the numbers are rising. In spite of increasing prevention efforts.
As awareness grows about the increase in youth suicide rates, school leaders need information on suicide prevention. Tragically, the search often begins only after a school community has suffered the loss of a student.
A Culture of Caring: A Suicide Prevention Guide for Schools (K-12) is about saving lives. Designed as a handbook for busy educators, readers will find information about risk factors, prevention, intervention, and postvention, along with commentary from experts in the field.
CONTENTS
A Brief History of Suicide Prevention
The Current State of Suicide Prevention in Schools
Changing the Mindset
Prevention
Intervention
Postvention
Engaging the School Community
in Suicide Prevention
Success Stories
What the Future Will Be
Resources
---
Testimonials
"Spectacular resource for educators working with students who suffer from depression, have suicidal thoughts, and may be in this state of mind, or those who just want to know what signs to look for with students who are dealing with this issue. This is written from the educator's view and with personal knowledge of the heartache of losing someone they love to suicide. The book provides the tools and resources for educators to give support and assistance to students and their families. If you are an educator, this is a must-read. Teachers often spend more time with students and see them daily; making them "first-responders" for suicidal youth. Please read this book, it WILL change your life and potentially save the life of a student that attends your school."

Joyce Morgan, MSW, LCSW, LISAC, Social Work Senior Manager, Banner University Medical Center Tucson and South Campus
"This book should be in the hands of every educator and in every school. It is imperative that suicide awareness and prevention be a part of everyday measures to ensure the safety of our children and allow for discussions to happen freely and without judgement. Theodora Schiro has created an "A to Z" resource for this to happen. As a community it is time to make mental health education a part of our everyday lives."

Melinda Vail, C.Ht., Grief Specialist
"Theodora Schiro's work on suicide prevention speaks to me on both a personal and professional level. As educators, we can benefit from a better understanding of what causes students' suicidal thoughts. Schiro's work provides both a practical approach and a means to help us understand how our feelings can cause inaction and the danger that causes those we care most about.
I also found that Schiro's work spoke to me in how to manage the relationships with my own children. As a father, I have had to navigate the difficult waters of depression and anxiety in my own child. I'm grateful for the resources others have guided me to, allowing me to focus on the wellbeing of my child.
If you are looking for a way to better understand suicide, how to prevent suicide, or how to respond when a suicide happens in your community, Schiro's work has something for you. I appreciated the ability to use each section in isolation to meet the needs of my specific community."

Dr. Timothy Fountain, Director of Curriculum & Instruction, Scottsdale Unified School District.

"Having worked under Theodora as her School Counselor during the tragic time of the loss of her son to suicide, this handbook is an honest and heartfelt collection of thoughts, ideas, and research gathered over time. Through the personal tragic loss, to past and current prevention efforts, research and experts in the field, Theodora provides this practical handbook full of evidence-based practices to serve as a useful tool to guide all educators in developing a successful suicide prevention program."
Dena Morgan, MAEd., MAFP, School Prevention Coordinator