How are you doing? I'm having a rough time……
COVID-19 has turned our world upside down. I figure that every single person on this planet has been affected by it in one way or another. I find myself worrying all the time about what will happen to us. I'm sleeping with Trump every night – can't get that guy out of my head. I worry that the country is about to either fall apart or start a slow recovery – but I'm not sure which. I want the election to be over so I can concentrate on something else. I'm afraid every person I pass at the post office or on the street without a mask is going to kill me with their germs. I haven't been to a restaurant in over ten months and I can't remember when I last had a haircut. I think it was sometime in 2020 BtV – Before the Virus.
And then there's climate change. I live in the Arizona desert between Tucson and Phoenix. The monsoon season, which usually brings summer storms, passed us by entirely this year. It hasn't rained at our house since March – that's over 200 days. Phoenix just broke its previous record of 144 days of temperatures over 100. It's so dry that even the cactus are withering and falling over.
We're going to be okay
Then I whack myself in the head – figuratively – and remind myself that I am an OPTIMIST! I always try to see the bright side and don't let the negativity get me down. Why am I allowing myself to get stuck in a negative loop? I don't think I have clinical depression, more like situational. I am grateful to have family and friends to talk to about it.
Sometimes I just talk to myself and try to work things out on my own. I have lived long enough to know that this too shall pass. Hard to believe now, but eventually it will rain here, the election will be over, the economy will improve, people will get jobs, and the pandemic will lose its grip. Everything we have experienced this year just happened all at the same time instead of the usual up and down rhythms of life on Earth. Well, maybe not climate change. But that discussion is for another day.
Crisis causes change
One of the positive changes I've noticed unfolding is an increasing willingness to talk about mental health as if it weren't a dirty word. It's starting to be okay to talk out loud about our health from the neck up. And to say the word suicide without whispering, knowing that most people agree it is time to make suicide prevention a national priority.
Let's be mental health and suicide prevention partners
The problem is, now that we agree on that, what do we do about it? Most people are not trained mental health professionals. We can't act as therapists or counselors. But we can become mental health and suicide prevention partners. We can start a conversation if we're concerned that someone we care about is struggling. We might not know just what words to use, but saying we care might just be the most important. We can call the suicide prevention lifeline or text the crisis text line to get help on someone else's behalf or for ourselves. We can talk to other people about suicide prevention and educate each other.
If you or someone you know is having a hard time coping with mental health and the effects of COVID-19, help could be a mouse click away. Here is the most comprehensive list of resources I've seen so far. It was compiled by the Suicide Prevention Resource Center (SPRC) for all kinds of audiences:
General Audience

Mental Health Professionals

Health Care Workers and First Responders

Community Leaders

American Indians and Alaska Natives

Colleges and Universities

Schools

Parents and Caregivers

Teenagers

Older Adults

Hispanics/Latinos

LGBTQ

Faith Communities

Workplaces
Bookmark the link or download a pdf copy to have as a reference. You'll be glad you did.
If you work for a school or know someone who does, I wrote a book that every school should have a copy of. Take a look:
---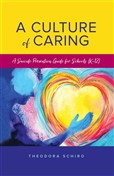 A Culture of Caring: A Suicide Prevention Guide for Schools (K-12) was created as a resource for educators who want to know how to get started and what steps to take to create a suicide prevention plan that will work for their schools and districts. It is written from my perspective as a school principal and survivor of suicide loss, not an expert in psychology or counseling. I hope that any teacher, school counselor, psychologist, principal, or district administrator can pick up this book, flip to a chapter, and easily find helpful answers to the questions they are likely to have about what schools can do to prevent suicide.