How do you start a conversation about mental health?
Are you comfortable talking with children or teens about mental health? Suppose you work in a setting where you interact with children regularly. You are not the only person who is reluctant to engage them in difficult conversations because they don't know how to bring it up.
Do you know a student who has shown signs of depression or anxiety? Or maybe their parent or sibling struggles with mental health conditions, and the child is feeling confused and upset about it. Perhaps you have your own mental health struggles and have always hidden those challenges from students and family.
You are not alone. Unless you are a trained mental health professional, you might not have much experience talking about such intangible issues. Even knowing how to listen and respond without judgment is a learned skill.
But your reluctance to talk about mental health has consequences. It probably wouldn't surprise you to learn that high school students often say they could not identify a single adult in their school to talk to if they had a problem. Many say that when they felt sad or hopeless, they could not get the help they needed.
Start early and often
What if we could teach kids how to talk to a trusted adult about their mental health? What if every adult in the school encouraged help-seeking behavior? And knew what to say to children when they were struggling.
This is a perfect time to introduce upstream suicide prevention to your school or district. Upstream prevention means that schools start teaching children about mental health on the first day they walk into a school building. Or in today's world, the first time they enter a virtual classroom.
Take a look at how Connecticut created and implemented an upstream suicide prevention curriculum in elementary schools. Featuring Gizmo, the therapy dog, Gizmo's Pawesome Guide to Mental Health helps elementary school staff effectively teach children about mental health, life skills development, and social connectedness.
https://www.gizmo4mentalhealth.org/
Gizmo's Pawesome Guide to Mental Health Guide
Teachers and staff would learn the same concepts and vocabulary, equipping them with the skills they need to talk with children about mental health. Teaching age-appropriate lessons at every elementary grade level (K-6) means students will enter secondary school with their own tool bags of mental health strategies. They will come prepared to talk about how they feel. They will expect the adults in the school to care about them and know how to help.
Be the one to start it
If your school or district has not yet started developing upstream suicide prevention by introducing a mental health curriculum, you could be the one to start it! Visit the National Suicide Prevention Lifeline site called "be the 1 to" and learn how to initiate a lifesaving program. Use Connecticut's model for ideas or develop your own.
---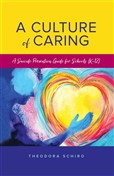 A Culture of Caring: A Suicide Prevention Guide for Schools (K-12) was created as a resource for educators who want to know how to get started and what steps to take to create a suicide prevention plan that will work for their schools and districts. It is written from my perspective as a school principal and survivor of suicide loss, not an expert in psychology or counseling. I hope that any teacher, school counselor, psychologist, principal, or district administrator can pick up this book, flip to a chapter, and easily find helpful answers to the questions they are likely to have about what schools can do to prevent suicide.