The Suicide Prevention Resource Center has published a step-by -step model that touches on nine components of suicide prevention. Click on each heading to learn important prevention strategies.
If you are struggling with thoughts of suicide or worried about a friend or loved one, help is available. Call the National Suicide Prevention Lifeline at 1-800-273-8255 [TALK] for free, confidential emotional support 24 hours a day, 7 days a week.
---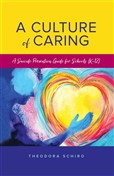 A Culture of Caring: A Suicide Prevention Guide for Schools (K-12) was created as a resource for educators who want to know how to get started and what steps to take to create a suicide prevention plan that will work for their schools and districts. It is written from my perspective as a school principal and survivor of suicide loss, not an expert in psychology or counseling. I hope that any teacher, school counselor, psychologist, principal, or district administrator can pick up this book, flip to a chapter, and easily find helpful answers to the questions they are likely to have about what schools can do to prevent suicide.