"I am depressed. Anxious. I feel hopeless. I have suicidal thoughts. I am alone. I smile and pretend nothing is wrong."
Too many of our children are feeling this way. It might be because of a diagnosable mental illness triggered by childhood trauma, loss of a loved one, loneliness caused by the pandemic, or simply a genetic disorder passed down through the family tree. It may be an experience that lasts a few weeks or an ongoing persistent pain that stops and starts over and over.
Whatever the cause of this particular pain, it takes courage to speak up and reveal internal distress and anguish.
It helps to know you are not alone. And that life can get better. Solutions are out there.
Ken Burns believes his most recent documentary film, Hiding in Plain Sight: Youth Mental Illness, will save lives. Twenty young people share their stories of despair, hope, and survival. Streaming on PBS.org in two parts, you can watch it today.
If you or a loved one suffers from suicidal thoughts, get help right away. Don't wait to just get over it. That's not going to happen. Can you just get over a broken bone or a severe illness like diabetes or heart disease? No. Get help.
Help is available
Speak with someone today.
Put this number in the contact list on your phone
and share it with anyone else who might need it.
National Suicide Prevention Lifeline 24/7
Hours: Available 24 hours. Languages: English, Spanish.
800-273-8255
The Lifeline and 988
988 is the new three-digit dialing code that will route callers to the National Suicide Prevention Lifeline.
While some areas may be currently able to connect to the Lifeline by dialing 988, this dialing code will be available to everyone across the United States starting on July 16, 2022.
Click below to learn more.
---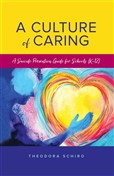 A Culture of Caring: A Suicide Prevention Guide for Schools (K-12) was created as a resource for educators who want to know how to get started and what steps to take to create a suicide prevention plan that will work for their schools and districts. It is written from my perspective as a school principal and survivor of suicide loss, not an expert in psychology or counseling. I hope that any teacher, school counselor, psychologist, principal, or district administrator can pick up this book, flip to a chapter, and easily find helpful answers to the questions they are likely to have about what schools can do to prevent suicide.