Twelve year old Taylor Swift wrote one of her first songs, "Outside," about feeling lonely. Feeling like she didn't fit in with her peers at school, she used her music to tell about the pain of being on the outside looking in.
Teens today are feeling that same sense of loneliness more than ever before. Newsweek's recent article, "I Feel Invisible," tells the story of the progression of mental illness among our youth.
Surgeon General Dr. Vivek Murthy believes loneliness is a public health concern and must be addressed as part of the solution to youth mental health disorders.
Some researchers believe that an increased focus on standardized testing, initiated by the No Child Left Behind Act in 2002, was the catalyst that triggered a decline in social and emotional learning in U.S. schools. The emphasis on teaching to the test has taken time away from programs that engage students and help them learn social skills.
When the COVID -19 pandemic abruptly cut teens off from in-person socialization, it diverted their attention to remote learning and led to a relyiance on social media to replace genuine relationships. The result of the reduction in opportunities for children and youth to learn how to build relationships, solve problems on their own, and develop resilience in the face of adversity has led to increased feelings of isolation, loneliness, anxiety, and depression.
Today school leaders see a critical need to return to teaching social and emotional skills as a way to address the youth mental health crisis. Helping children to connect with others to cultivate a sense of belonging has proven so effective that in 2021, that some 70% of high school principals have adopted an SEL curriculum.
Even though political misinformation has influenced parents and convinced many that SEL is about "liberals" wanting to indoctrinate students and push critical race theory, the truth is that everyone needs to take youth mental health seriously.
Schools can't solve the mental health crisis, provide treatment or therapy, or serve as physical and mental health providers. However, with the support of parents and communities, they can help children grow into healthy and successful citizens. Tacoma Public Schools created a model program, Tacoma's Whole Child Initiative, that others could emulate. They have successfully developed a whole village approach to supporting physical and mental wellness.
What can you do to solve the loneliness epidemic? Find ways to connect with youth in your community, even if it is just one kid at a time.
---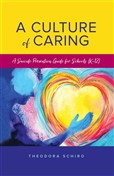 A Culture of Caring: A Suicide Prevention Guide for Schools (K-12) was created as a resource for educators who want to know how to get started and what steps to take to create a suicide prevention plan that will work for their schools and districts. It is written from my perspective as a school principal and survivor of suicide loss, not an expert in psychology or counseling. I hope that any teacher, school counselor, psychologist, principal, or district administrator can pick up this book, flip to a chapter, and easily find helpful answers to the questions they are likely to have about what schools can do to prevent suicide.