It's one thing to come across alarming data. Sometimes, our initial reaction is to think, "Oh, that's awful!" and then move on to the next headline that catches our attention.
If you are a parent, teacher, school administrator, or know any teenage girls – pay attention if you see an article or post about how teenage girls are struggling. It's easy to think that many girls are often overly dramatic, and that their over-the-top behavior will pass as they mature. But this time, it's different. Fortunately, educators can make a difference. Schools play a key role in supporting youth mental health. A girl's life could depend on your reaction, quite literally.
Based on trends revealed through Youth Risk Behavior Survey results over the past ten years, from 2011-2021, girls are struggling with mental health issues more than ever before. If you work with teens, you might want to read the entire report.
The most recent data, collected in the fall of 2021 when students returned to in-person school after the pandemic started, showed that high and worsening levels of persistent sadness or hopelessness spanned across racial and ethnic groups. The section focusing on mental health and suicidality showed that girls have experienced a significant increase in mental health challenges. The new report also confirms ongoing and extreme distress among teens who identify as lesbian, gay, bisexual, or questioning (LGBQ+).
"High school should be a time for trailblazing, not trauma. These data show our kids need far more support to cope, hope, and thrive," Debra Houry, M.D., M.P.H., CDC's Chief Medical Officer and Deputy Director for Program and Science. "Proven school prevention programs can offer teens a vital lifeline in these growing waves of trauma."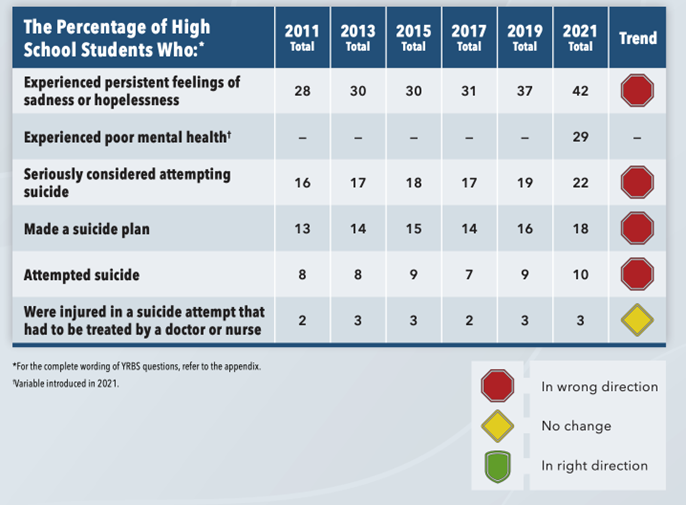 Nearly 3 in 5 teen girls felt It's About Girls or hopeless, a nearly 60% increase over the highest level recorded in the past decade.

Nearly 1 in 3 teenage girls seriously considered suicide, a 60% increase.
The good news is that the CDC also reports that school connectedness is a protective factor. If teens feel that people at their school care about their well-being and success, it can have a long-lasting protective effect.
The CDC noted that additional evidence-based strategies and resources for schools are available on its website.
Why is this happening, and what can we do about it?
Researchers studying the mental health in children and adolescents have some answers about how to help teen girls struggling with mental health issues.
Know the signs. Watch this short video about 10 signs of depression in teens. Be aware that many girls rely on their social circles for support. Going to school online during the pandemic meant they missed out on that in-person time. Social media has positive and negative effects on teens' mental health.
Even though most teens probably don't follow the news, they are very aware of the dangers of climate change and worry that they are likely to live in a very different world when they grow up. Many are experiencing social issues like racism and anti-LGBTQ sentiments that are more real to them than the politicians who stir up these emotional issues.
Social support from peers, parents, and other adults, can help teens build resilience.

Tackle competition on social media between girls, especially about their looks, by teaching them to support each other instead of judging.

Encourage girls to acknowledge and value other qualities besides appearance.

Empower women by increasing awareness of women's achievements and their role in advocacy for equal rights.

Have honest discussions with girls about how social media influences the way they feel about themselves.

Help girls identify and label their feelings, especially signs of persistent anxiety or depression. Regular screenings by a medical professional should begin at age 8.

Create a club for girls

where they can be themselves and talk, no special skills required.
Why are girls so sad?
Going back to the recent Youth Risk Behavior Survey results provides some answers.
Nearly 1 in 3 high school girls said they had considered suicide, a 60 percent rise in the past decade. Nearly 15 percent had been forced to have sex. About 6 in 10 girls were so It's About Girls or hopeless they stopped regular activities.
To figure out why that is, think about how different it is to be a teenage girl now than it was for the last few generations.
Social media

Lack of sleep

High expectations for physical appearance, comparison to others

Online hate

Academic pressure

Economic difficulties

Self-doubt

Sexual violence

Fear about climate change

Racial unrest, racism toward girls

Identifying as LGBTQ
The stigma of mental illness continues to place a stranglehold on honest conversations about it. Girls don't want to talk about it, often feeling they have too much to lose if they disclose problems.

Harvard psychologist Richard Weissbourd points out that "girls are more likely to respond to pain in the world by internalizing conflict and stress and fear, and boys are more likely to translate those feelings into anger and aggression," masking their depression.
Jean Twenge, a psychology professor at San Diego State University and author of the book "iGen, said, "Social media in general and internet use show the strongest correlations with depression."
Be patient, listen, and believe
Please listen to your girls. Don't assume they are just being dramatic. Maybe they are, but it could also be that they are on overload. Make sure they know it's okay to talk about feelings as much as they want. If they are showing signs of anxiety or depression and it lasts for more than a week or two, get them help. It can be hard to get appointments with mental health professionals on your community, but telehealth is an option and may be more accessible. Don't ignore their stress and pay attention to behaviors that are out of the norm. Listen, talk, and take action.
If you or someone you know needs help, visit 988lifeline.org
or call or text the Suicide & Crisis Lifeline at 988.
Another option is the Crisis Text Line. Text HOME to 741741
Resources referenced in this post
CDC calls on schools to help address historic high teen trauma
Youth Risk Behavior Survey: Data Summary & Trends Report (2011-2021)
Evidence-based Strategies and Resources for Your School
How to help teen girls' mental health struggles – 6 research-based strategies for parents, teachers and friends
The crisis in American girlhood
---
Image attribution:
© virtosmedia, 123RF Free Images
---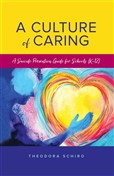 A Culture of Caring: A Suicide Prevention Guide for Schools (K-12) was created as a resource for educators who want to know how to get started and what steps to take to create a suicide prevention plan that will work for their schools and districts. It is written from my perspective as a school principal and survivor of suicide loss, not an expert in psychology or counseling. I hope that any teacher, school counselor, psychologist, principal, or district administrator can pick up this book, flip to a chapter, and easily find helpful answers to the questions they are likely to have about what schools can do to prevent suicide.