Technology
Many school districts use an electronic health records system to track student health. But it should not be limited to vision and hearing checks. To address the youth mental health crisis, schools can use the same system to monitor mental health.
Screening : Samhsa guidelines, recommended by National Association of School Psychologists
Documentation: Keep track of mental health encounters, be proactive
Look for patterns and trends: Mental illness is often invisible, look at trends for depression, bullying, suicide ideation, anger management, and peer conflict.
Scheduling: Group therapy and counseling sessions
Communication: Securely communicate with parents and other providers
Human Connections
Beyond tracking data, it's the human connections that are most important. Just knowing a student's name and letting them know you care about them as a person can make a difference.
Make connections : Schools play a critical role in promoting students' health and development by helping students feel connected.
Be aware of signs of trouble: Listen and take any talk about suicide seriously.
Acknowledge and act: If you feel a student is at risk, tell them and seek help
Know who to go to: Know who the school counselor, social worker, or psychologist is and report any concerns.
Keep staff and parents informed: Notify parents and staff members who work with a student if there are concerns.
Monitor and follow up: Keep track of student's status and take action if needed.
If everyone in a school participates in a culture of caring and pays attention to each other and students as individuals rather than groups, they will maintain a positive, safe environment for youth.
---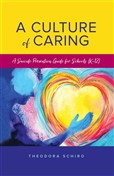 A Culture of Caring: A Suicide Prevention Guide for Schools (K-12) was created as a resource for educators who want to know how to get started and what steps to take to create a suicide prevention plan that will work for their schools and districts. It is written from my perspective as a school principal and survivor of suicide loss, not an expert in psychology or counseling. I hope that any teacher, school counselor, psychologist, principal, or district administrator can pick up this book, flip to a chapter, and easily find helpful answers to the questions they are likely to have about what schools can do to prevent suicide.