Ultimately, every single one of us will die. It's part of life. Sticking around as long as possible gives us more time to contribute to society and nurture our relationships with each other. You can make choices that will improve the quality of your life and prevent untimely death, or you can take the path of least resistance and let life or death takes its course. To understand the options, you need information and guidance.
Knowledge is power
The more you know, the better prepared you are to prevent an untimely death. Research on killers like cancer, heart disease, diabetes, influenza, COVID, and suicide has taught us that lives are saved through prevention. Effective prevention always starts with education and sometimes legislation.
You've learned that healthy lifestyles include healthy nutrition, hygiene, exercise, sleep, and positive relationships. Some health guidelines can be hard to follow, like wearing face masks and social distancing, avoiding sugar and fried foods, getting enough sleep, and exercise. You try. When laws are passed requiring certain precautions, including wearing seatbelts and not smoking in indoor public places to avoid injury and death, you take it more seriously.
You start teaching children when they are very young how to make positive choices for themselves. You want them to make decisions about relationships, behavior, food, and activities. Teaching those life skills comes naturally to parents and teachers. They do much of it without having to think about it.
Training increases power
Some things require more effort to teach. Anyone can teach basic academic skills like reading, writing, math, and science, but they can do it better if they have knowledge, training, and experience. The same is true of teaching about social-emotional skills and mental health. That's why our society relies on trained educators to teach our children.
Parents, do you know if your child's school teaches those essential subjects? Too often, uncomfortable topics are put on the back burner or just overlooked in schools. Rather than trying to solve children's problems for them, be more proactive about showing kids how to deal with difficulties in life. Parents and teachers must teach young children, adolescents, and teens to build resilience, solve life problems, and develop coping skills. In other words, grow some grit. Those skills will not prevent all diseases, accidents, broken hearts, or suicides, but they will give children tools and strategies to apply in the face of challenges.
Tools and strategies
There are a handful of programs available for schools, and more are being developed. Here are just a few examples:
Social-Emotional Skills
Coping, problem-solving, and resilience
Many states have already started passing laws requiring schools to train teachers on suicide prevention. That has happened because of advocacy and increased public awareness, mostly driven by survivors of suicide loss and nonprofit organizations. But we're not done yet. We need to push for more.
Strategies to prevent suicide must be taught starting in Kindergarten and continue every year through graduation. That means you, as parents, need to start demanding that schools to teach them. As an educator, I know there might be resistance to adding more to the required curriculum. But I also know that helping children develop self-help skills when they're young will help them become healthier and more informed adults.
---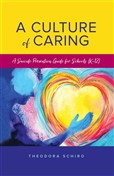 A Culture of Caring: A Suicide Prevention Guide for Schools (K-12) was created as a resource for educators who want to know how to get started and what steps to take to create a suicide prevention plan that will work for their schools and districts. It is written from my perspective as a school principal and survivor of suicide loss, not an expert in psychology or counseling. I hope that any teacher, school counselor, psychologist, principal, or district administrator can pick up this book, flip to a chapter, and easily find helpful answers to the questions they are likely to have about what schools can do to prevent suicide.